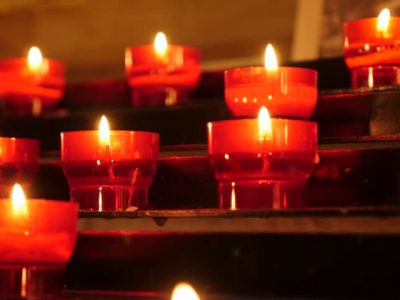 Lighting a Candle for Prayer Intentions.
In our Gathering Area you will find a space, at the feet of a statue of the Blessed Virgin Mary, where votive candles are placed. These candles are intended to be burned as an offering of prayer; special intentions or for someone who is in need of prayers. The Virgin Mary guides our prayers to the Lord our God. This is a thoughtful expression of your sentiments and best wishes for any occasion. Your lit candle is an act of faith and charity. If you see a lit candle, quietly offer a prayer for the intentions of who or what it was lit for.
To help defray the cost of the votive candles, we suggest that you contribute $5 to light a large, 7-day candle; and 50 cents to light a small, 8-hour candle.